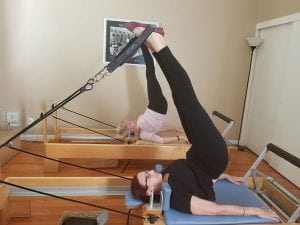 There was a time not so long ago when it was necessary to take a few if not a dozen or more private Pilates sessions with an experienced instructor in order to move on to small group classes. With the trend swinging towards larger and larger group classes, this has become less and less of a requirement for newer or inured students. This can be a problem for those who want to really experience the beauty of Pilates and to get something worthwhile out of their sessions.
There are many benefits to a commitment to private Pilates and there are even more benefits to working with an experienced and well-trained instructor. Not all instructors are created equal nor do they have the same amount of education and training. The following list the true benefits of working one on one with a talented and well-trained instructor:
A private Pilates session will be geared towards you and your level of ability.
Health and physical issues are addressed as the class is just you and there is no need to keep up with someone who does not have the same issues.
The teacher can focus exclusively on you finding those areas that may need work and those that don't need as much.
Since the class is geared towards you and no one else, you get a better work-out and accomplish your goals that much faster.
An experienced instructor can help you progress to higher levels without hurting you.
A private session is going to be more intense so if money or time are issues, you don't need to go every day or even every other day. Less can be more.
On those days where something isn't right or you have newer health issues, they will be addressed in a private session.
Are you ready to start your Pilates journey? At Ab-solutely Pilates studio you can start private Pilates training that will help you reach your fitness goals in the environment dedicated to YOUR health and wellness.