Devra Swiger
Pilates Teacher, Studio Owner, Writer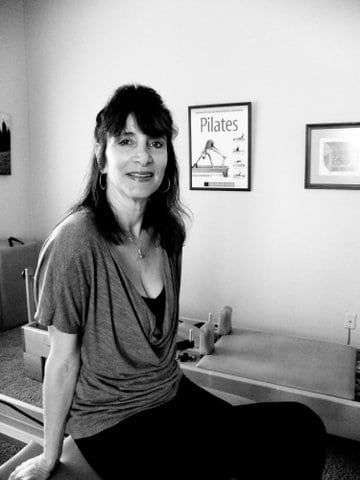 Devra has been teaching the Pilates method since 2000. While recuperating from a low back injury, Devra decided to write an article on Pilates for an on-line fitness publication. while researching Pilates she signed up for a few private sessions and was hooked right away. She began by studying and apprenticing with a classically trained Pilates instructor in North Carolina and then went on to get certifications with Colleen Glen (mat), Physicalmind (mat) Alternative Fitness (reformer) and Polestar (studio). In addition to these four certifications, Devra has studied with Ron Fletcher Pilates and Stott Pilates and Jennifer Kries. She is also certified by the American Council on Exercise in both group fitness and personal training. Devra has since written articles for various Pilates and is releasing her second novel at the end of March.
Prior to teaching Pilates Devra had a career in corporate marketing and has degrees from the State University of New York at Albany (BA) and The American Graduate School of Int'l Management (MBA). She studied dance throughout high school and college so it made logical sense to pursue fitness, movement and ultimately Pilates after the birth of her two daughters.
Devra's style of teaching is unique: She feels that movement is key to developing confidence and self esteem and that after every session the client should leave feeling better than when they walked in. She's had amazing success with people from all walks of life including those who have never enjoyed exercise before. She truly loves what she does.
Read Devra's entrepreneurial journey as a Pilates studio owner on Go Solo.
Devra is also a writer and novelist. Her books Me Myself and Suzanne and Body to Die For are available to order on Amazon.
The Studio
Ab-solutely Pilates is a cozy fully equipped Pilates home studio near downtown Huntington Beach CA. The studio is equipped with the following apparatus: Reformers, Trapeze Table (Cadillac), Chair as well as small Pilates props and equipment such as magic circles, light weights, resistance bands etc.
Ab-solutely Pilates offers individualized private and duet sessions. Every client receives individual attention and each session is designed to meet his or her fitness goals from the person trying fitness for the first time to the professional level athlete.